More Than Just an Art History Book…
The Master and His Apprentices also serves as a great travel guide, Bible study companion and visual historical reference!
Regardless of which edition you purchase (digital or print; see below), here are some of the great features you will find in The Master and His Apprentices…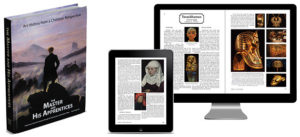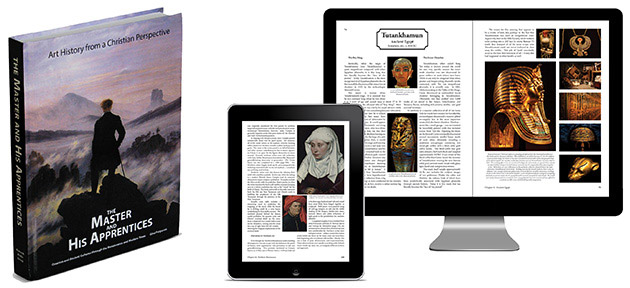 Large 8½ x 11-inch layout — coffee table-sized
380 pages with 600+ photos (500+ full-color)
Informative chapter introductions that provide background and context for each period
Chapter

timelines

highlighting the art alongside world events and Bible/Christian history
A reader-friendly layout with most pieces/artists arranged as 2-page spreads for quick and easy studying
Also, an amazingly in-depth APPENDIX that includes additional features like:
EXTRA ESSAYS for those seeking more information on advanced topics
A DETAILED INDEX so you can quickly find what you are looking for
A "TRAVEL GUIDE" listing the current location of EVERY work (organized by country with many further divided by state/city). Quickly and easily identify which areas/buildings/museums will enable you to see the most art history on your next family trip
A COMPLETE wall-length TIMELINE available as a printable document — link included with both digital and print editions
The Master and His Apprentices art history book is available in 2 different formats!
Art history books, due to their size and number of full-color pictures, can be very expensive. The author's art history textbooks cost $100-300 each. Furthermore, she literally pulled a rolling suitcase full of them back-and-forth for five years when teaching high school art history. Why? Because between the humanist ideology and number of nude images, it literally took almost a dozen art history books to present the information now contained in The Master and His Apprentices. Nevertheless, the author didn't want to just solve this problem by creating an all-inclusive art history book with a Christian perspective. She also wanted to release it at a price point that anyone could afford. Hence the digital option below.
Originally, this was the only edition the author was planning on releasing due to the affordable price point (only $34.99 retail!). Of course, you can view the digital edition on a computer, but the standard 8½" x 11″ layout also means you can print, 3-hole punch and store individual pages or chapters in a binder at home! This dual option gives readers the most flexibility, at an amazing price.
The digital art history book is available as a fixed-layout PDF. This means that pages viewed on a screen will look identical to the print layout (text does not "flow" like with most eBooks). Due to the complex layout, viewing The Master and His Apprentices is recommended for personal computers (PC or Mac). However, when a computer is not available, you can load the file onto a digital device that supports PDF eBooks including most iPads, Kindles or other tablets (although a computer is still best). If you don't already have it, you will need Adobe Reader or Adobe Digital Editions installed on your device. Most computers already have this program, but if not, you can download Adobe Reader here for free.
Once you download the book, you can view it without an internet connection. Please note that the digital edition is intended to be downloaded once and used by a single reader or family. The author has done her level best to keep your cost as low as possible. Please reciprocate by purchasing a book for each individual student or family.
Depending on your printer's ink efficiency or local print prices, you may find purchasing the hardcover textbook more cost-effective than the full-color printing of the entire textbook at home.
The feedback received from readers and editors prior to publication was that The Master and His Apprentices was so good it needed to be available in print too. Digital readers loved the pictures, were inspired by the content, but often wanted a physical copy they could curl up with on the couch. The hardcover format provides that. No printing required; no more low battery warnings to deal with; simply enjoy your book right out of the box!
The hardcover version, printed with premium inks, includes all of the features listed above including 600+ photos in a large 8½ x 11-inch layout. This art history textbook should serve families for years, whether as a reference, travel guide, full credit course, etc.
In addition to being a complete course, this art history book is also ideal for church libraries and makes a wonderful gift for art lovers of all ages!
The companion teacher guide provides parents and teachers with everything needed to facilitate a 1-year, full credit high school elective course. The digital version is a fixed-layout PDF that requires Adobe Reader for viewing (see digital details for the textbook above). The softcover version includes 120 perforated pages for easy removal of worksheets and exams.
Because the teacher guide does not contain full-color photos like the textbook and is printed on a lighter paper with regular (not premium) inks, the price for the teacher guide does not vary much between the digital and physical versions. This is extremely affordable for parents and teachers who know a lot, or absolutely nothing, about art history and desire a complete turnkey curriculum.
PLUS Print & Photocopy Rights…
In addition, because it is illegal to photocopy, share or re-sell "consumable" workbooks, the reprintable worksheet and exam rights are available for only $2 for each additional student taking the course! Save $$$, obey the law and help support our family-friendly projects! This great offer applies to both digital and physical versions of the teacher guide (this does not include the textbook.)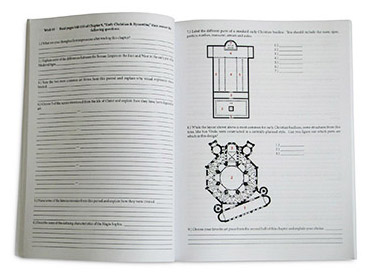 Interested in seeing some SAMPLE pages?

Click here!
Want to read some recent REVIEWS?

Click here!
All-around, The Master and His Apprentices is THE art history textbook for homeschool families, private Christian schools and adult readers. Understand art history and the Bible like never before… and learn to see the world with new eyes!
Ready to begin discovering art history from a Christian perspective?
Physical books ship FREE via Media Mail to all 50 US States (a small surcharge applies for Priority). International buyers may purchase physical books through Christianbook.com or RainbowResource.com, as we cannot process international shipping at this time. Nevertheless, digital products are available for everyone worldwide!
Please help us spread the word about The Master and His Apprentices…