Christian adults worldwide have enjoyed our Art History and Studio Art books, whether working with a child, a group of friends, or solo. (You can learn more about the Studio Art course by scrolling further down the page.)
ART HISTORY
Have you always wanted to take an ART APPRECIATION CLASS but don't know where to begin?
Whether you are 25 or 95, this book is for YOU!
The definition of art appreciation generally encompasses an understanding of the timeless qualities that make great art, well, great. Ordinarily, an art appreciation course will cover several different art periods, styles, mediums, and techniques.
The problem for Christians is that these same courses often approach the topic from a secular, humanistic perspective. They do not view God as the original, ultimate Creator. They do not make fascinating connections between art, artists, and the Biblical timeline. Most importantly, they do not present Jesus' life, death, and resurrection (a large percentage of art through the ages) as truth. Rather, they present Jesus as a mythological character alongside Zeus, Hades, and Athena Nike.
Why settle for second best when there is SO much more to art appreciation?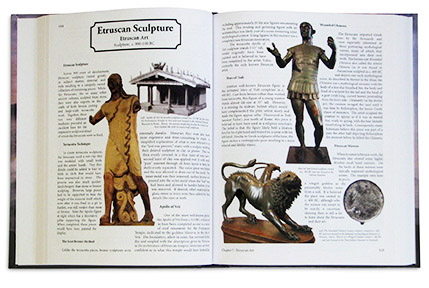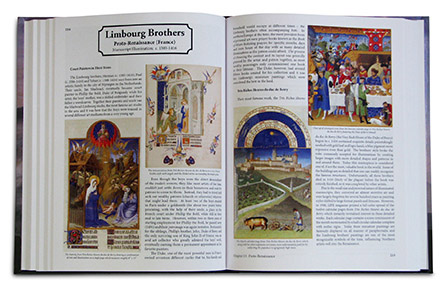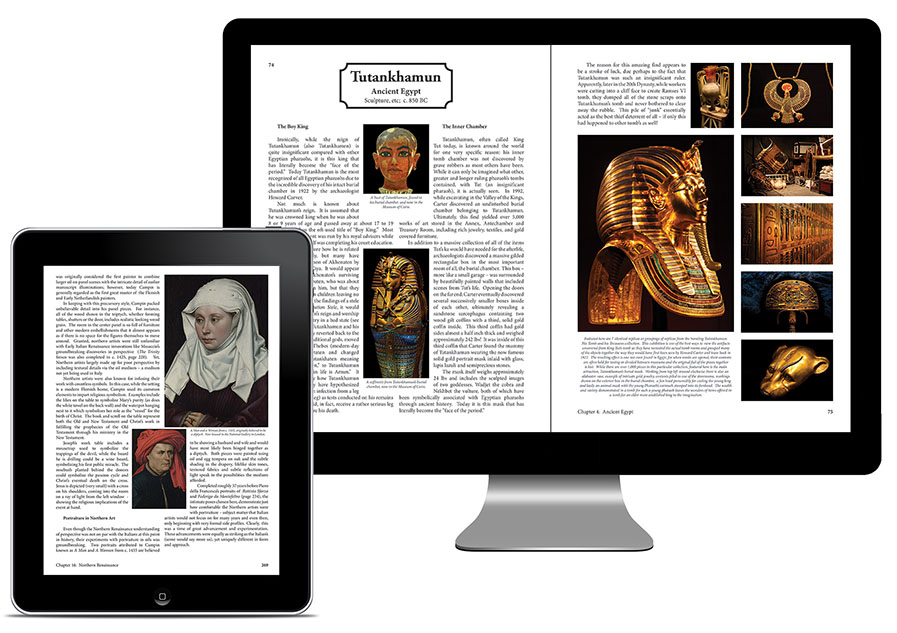 With The Master and His Apprentices, you can explore the world of art history from a Christian perspective! This art appreciation book covers all of the major periods, artists, styles, mediums, and techniques generally included in a college-level art appreciation course.
With over 600 photos, detailed timelines, a reader-friendly layout, and a plethora of information, this is your opportunity to really learn the history of art!
You will find reading The Master and His Apprentices a pleasurable and relaxing experience as you are transported back in time. No tests to have to study for or papers to have to write. Just informative content absorbed at your own pace. Adult readers have described this work as "fascinating," "eye-opening," and "a book that finally ties together all of the little pieces of information picked up in countless places over the years."
The Master and His Apprentices will help you SEE history! As a result, you will discover (and remember) connections between art, history, the Bible, and other subjects like never before. See the world with new eyes as you study these major period divisions following Creation:
Ancient Cultures: Ancient Near East, Egyptian, and Aegean
Classical Antiquity: Early Greek, Etruscan, and Roman
Middle Ages: Medieval & Islamic, Early Christian & Byzantine, Romanesque, and Gothic
Renaissance: Proto-Renaissance, Early and High Italian Renaissance, and Northern Renaissance
Baroque and Beyond: Baroque, Rococo to Today (modern art summary) and Global Highlights (non-Western art summary)
Ready to begin your ART APPRECIATION adventure?
Art History Textbook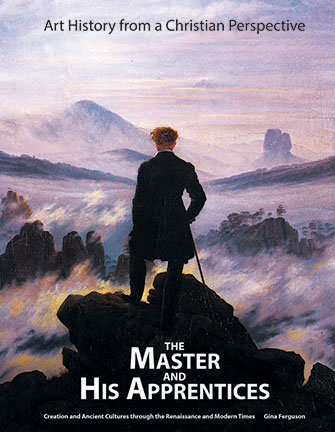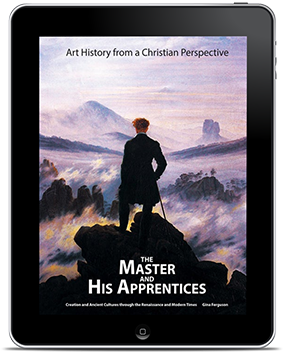 Art History Teacher Guide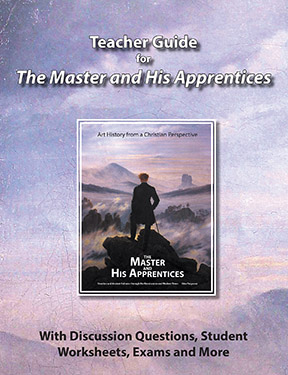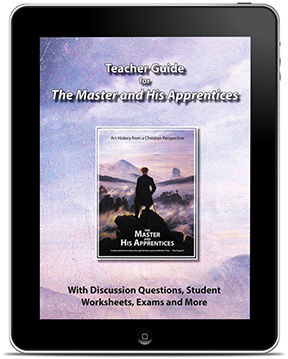 STUDIO ART
Have you always wanted to take a STUDIO ART CLASS but don't know where to begin?
Whether you are 25 or 95, this book is for YOU!
This resource is excellent if you have NO artistic background OR you are a seasoned artist looking to expand your artistic repertoire with new styles, mediums, and creative approaches.
10 Foundational Art Principles
The foundational principles first provide you with the understanding and skills needed to create any great work of art. These include Drawing What You See, Value, Lighting, Texture, Composition, Perspective, Proportions & Grids, Transferring, Color, and Sculpture. Each is presented with well-illustrated, easy-to-follow instructions. Nevertheless, "college-level" concepts like linear perspective, compositional techniques, and color theory are thoroughly covered.
30 Projects
The projects further introduce you to a wide variety of mediums, styles, and approaches. Each is placed in its historical context, so you learn from the Masters while simultaneously developing your own unique pieces. The wide range of styles, mediums, and subject matter literally provides something to catch everyone's interest, whether that is landscape painting, architectural drawing, still life sculpting, nature photography, portrait sketching, or less-frequently covered areas like mosaics, printmaking, digital art, comic creations, calligraphy, and (faux) stained glass.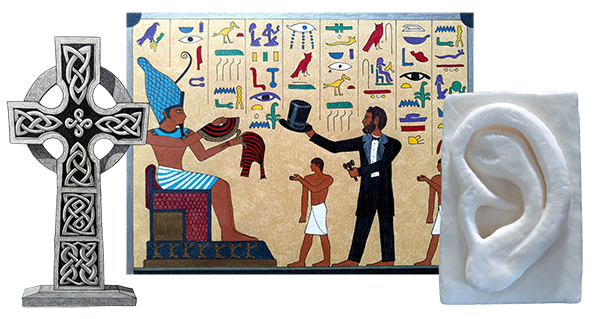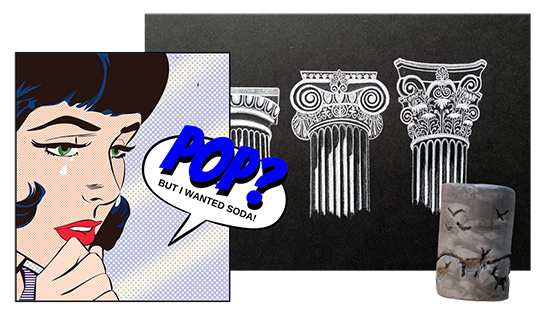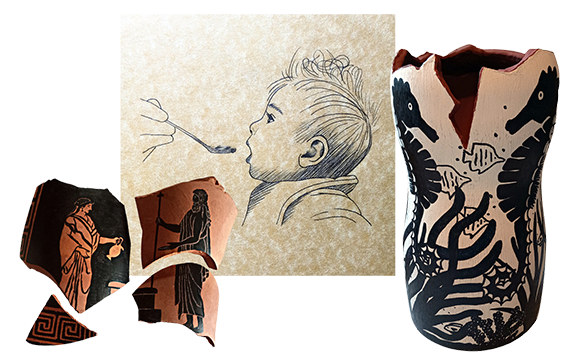 Easy-to-follow instructions
The instructions let you work at your own pace for a fun and relaxing experience. A budget-friendly supply list is included, and over half of the projects can be completed with just a "Drawing Kit," assembled from items you probably already own! The rest have inexpensive or even free options, like using a bar of soap, a cell phone (for photography), a potato, some cheap air-dry clay, or even Canva's free online drag-and-drop visual editor or other free "Paint"-type digital art program.
Plus, each project gives as much artistic freedom as possible. This means that you can personalize pieces by choosing the medium, style, theme, subject matter, etc. This is NOT a paint-by-number type of class, so ultimately, no two pieces will turn out exactly alike, even though they are based on the same instructions!
Great for Small Groups and With Friends…
Projects can be completed solo or with a spouse, friend, child, or grandchild. Plus, as an adult, you don't have to worry about time constraints and grades but can create whenever you want, stress-free! This book is literally packed full of fun, flexible, easy-to-follow projects that encourage you to relax as you experiment and refine your artistic skills and creative approaches. Hopefully, this experience will help you determine what artistic mediums and approaches interest you the most. With your newly acquired art foundation, you will hopefully have the confidence to continue creating new works of art and step into new artistic opportunities as they present themselves!
Plus, you can always combine our STUDIO and ART HISTORY courses for an even more immersive experience! There is at least 1 Project (if not 2 or 3) in Studio Art: Inspired by Art History for every period covered in The Master and His Apprentices: Art History from a Christian Perspective. Simply work on the art project(s) for each period as you make your way through the art history text. Now that is a fun, hands-on way to expand your art appreciation!
Ready to start your STUDIO ART journey?
Includes 10 Foundational Principles and 30 Art Projects!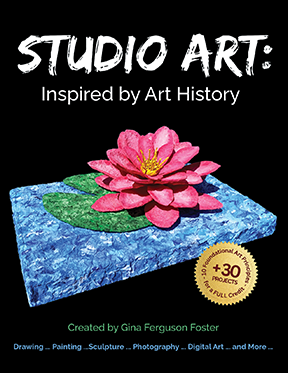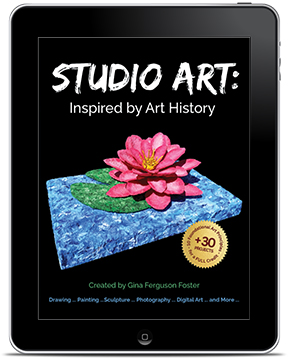 Physical books ship FREE via Media Mail to all 50 US States (an $8 surcharge applies for Priority Mail). International buyers may purchase physical books through Christianbook.com or RainbowResource.com, as we cannot process international shipping at this time. Nevertheless, digital products are available for everyone worldwide!
Please help us spread the word about The Master and His Apprentices…