Today, art history is often overlooked or purposefully ignored. Nevertheless, the history of art is very important — especially for Christians.
1 — Studying the history of art helps us more fully understand GOD.
The very first attribute the Bible speaks of pertaining to God (Gen. 1:1) is His omnificence or all-creative power. Furthermore, as Genesis 2:9 states, God didn't just design the basic elements needed to sustain life, but He also created what was "pleasant to the sight." Moreover, as Exodus 35 illustrates, God fills and equips people with artistic knowledge and skills that reflect His creative character. As a result, we, His created, can better understand and worship God by appreciating His (and His apprentices') artistic works. This concept is beautifully expressed in the very throne room of God as recorded in Revelations 4:11. And the elders exclaimed: "Worthy are you, our Lord and God, to receive glory and honor and power, for you created all things, and by your will they existed and were created."
2 — Studying the history of art helps us more fully understand the BIBLE.
Do you clearly understand when specific biblical events occurred compared with a standard timeline of world history? Do you understand the major cultures and people groups that influenced biblical events? Can you explain the possible connections between Abraham and the pyramids or King Solomon and Queen Hatshepsut? Do you know how Israeli/Roman interaction impacted Christ's death and resurrection? Or how the "misunderstandings" between Paul, Barnabas and Greek citizens/artisans (and their mythological gods) led to grief and riots? Biblical events didn't occur in a vacuum — they were influenced by cultural philosophies of the time. Believe it or not, studying the history of art can provide great insight into these complex times.
3 — Studying the history of art helps us more fully understand HISTORY.
Often, core classes, like history, science, literature and the Bible, are studied independently of each other. Consequently, the frameworks our brains create to organize these different disciplines are often disconnected. However, one of the primary goals of The Master and His Apprentices is to combine these timelines so they are no longer independent but, like reality, are interconnected. Because art history is essentially a visual study of history, students can literally see these overlaps! For instance, would you guess that Michelangelo completed painting the Sistine Chapel ceiling only 5 years before Luther posted his 95 theses? Or that Daniel was likely living in Babylon, under King Nebuchadnezzar, when Aesop recorded his now-famous fables? Visually connecting historical events and cultures with art and then using this framework to associate with other facts has enabled countless students to really grasp history — often for the very first time.
4 — Studying the history of art helps us more fully understand ARTISTIC EXPRESSION.
If the three points listed above weren't reason enough to study art history, it also helps increase our art appreciation. With The Master and His Apprentices, you will learn what makes great art great. For instance, you will get to know the artists, their struggles and triumphs. You will learn to identify common styles, mediums and techniques. Furthermore, you will learn to discuss art using proper terminology. Ultimately, this will change the way you see the world around you. Light and shadow, color, texture — these will all appear different. Moreover, you will find yourself identifying and better appreciating architectural styles and elements of creation as you travel in your daily life. The history of art literally opens a whole new world!
Why settle for a secular art history course that promotes humanist thinking? The Master and His Apprentices: Art History from a Christian Perspective uses the Bible to establish Truth without including nudity. This well-rounded approach not only clearly presents the history of art but will encourage you in other areas as you come to see God Himself more clearly.
Ready to begin discovering art history from a Christian perspective?
Art History Textbook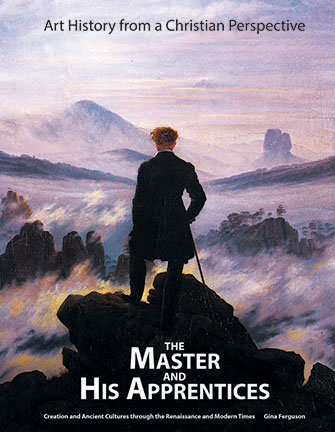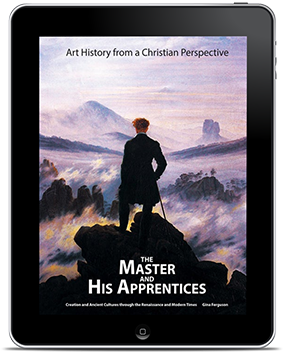 Art History Teacher Guide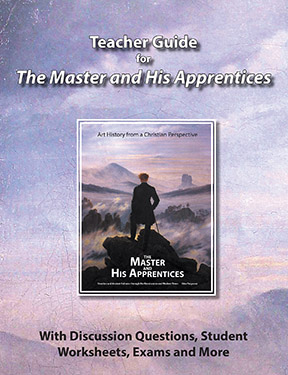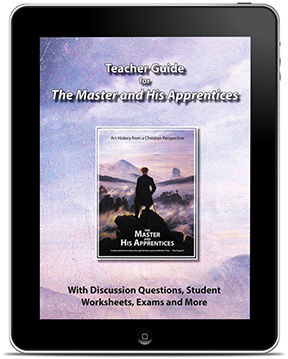 Physical books ship FREE via Media Mail to all 50 US States (an $8 surcharge applies for Priority Mail). International buyers may purchase physical books through Christianbook.com or RainbowResource.com, as we cannot process international shipping at this time. Nevertheless, digital products are available for everyone worldwide!
Please help us spread the word about The Master and His Apprentices…