Now Offering

2

Full-Credit Courses!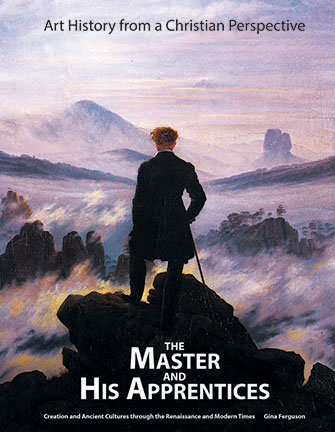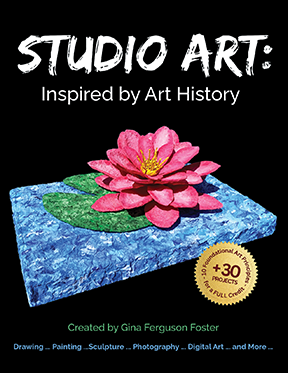 For ART HISTORY, Click HERE. FOR STUDIO ART, Click HERE.
ART HISTORY
ART HISTORY
Looking for a complete homeschool ART HISTORY curriculum? The wait is over!
The Master and His Apprentices is designed for you to easily and effectively teach a high school-level art history class.
The Master and His Apprentices is a FULL CREDIT elective written from a Christian perspective and contains NO nudity or other objectionable material.
This homeschool art history curriculum systematically highlights the history of the world from the first day of Creation — featuring God as the first and preeminent artist. Moreover, it covers all of the major artists and periods found in a college-level textbook but in a reader-friendly way that makes the information accessible and memorable.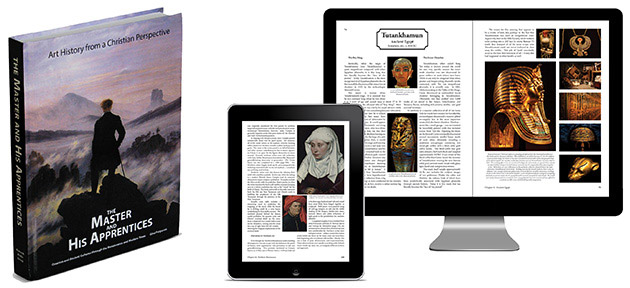 ---
The Master and His Apprentices literally enables students to SEE HISTORY! As a result, they discover (and remember) fascinating connections between art, history, the Bible, and other core classes.
---
For instance, chapter divisions following Creation include:
Ancient Cultures: Ancient Near East, Egyptian, and Aegean
Classical Antiquity: Early Greek, Etruscan, and Roman
Middle Ages: Medieval & Islamic, Early Christian & Byzantine, Romanesque, and Gothic
Renaissance: Proto-Renaissance, Early and High Italian Renaissance, and Northern Renaissance
Baroque and Beyond: Baroque, Rococo to Today (modern art summary) and Global Highlights (non-Western art summary)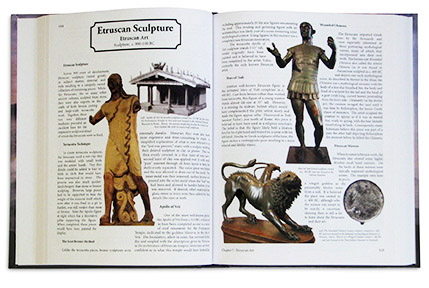 ---
This homeschool art history curriculum is designed for self-study or teacher-led co-op classes.
For the full-credit course with assignments and exams, a Textbook should be combined with a Teacher Guide.
---
The companion Teacher Guide provides everything needed to facilitate and assess a student's progress, including:
Weekly Worksheets (self-study) / Discussion Questions (class settings)
(4) Exams
Instructions for (4) Papers
Grading Chart
Answer Key for Exams and Worksheets (including discussion questions)
A syllabus and More!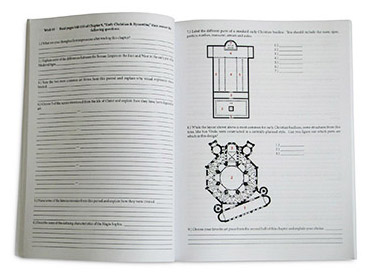 NO previous art experience is required. The Teacher Guide contains instructions for all aspects of the course in an easy-to-follow, week-by-week layout. Many parents and co-op teachers love reading the textbook along with students; however, this isn't absolutely necessary, as answers are provided for the weekly worksheets (self-learning) or discussion questions (group classes) and exams. Simply grade worksheets (or monitor class discussions), papers, and exams in this turnkey homeschool art history curriculum!
---
The Master and His Apprentices contains over 600 images arranged in a reader-friendly format, so there is literally something to catch everyone's interest. Even students who don't care for studio art often find art history fun and informative. Plus, Art history courses look great on a high school transcript!
---
AND… this is a Budget-Friendly Homeschool Art History Curriculum…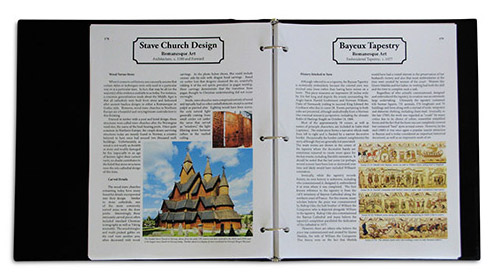 The Master and His Apprentices is designed with limited homeschool and co-op budgets in mind. For instance, the Digital Textbook, which is priced at only $34.99, comes with a "binder-ready" print layout so you can easily print at home, 3-ring punch, and store with your other curricula (optional).
Moreover, "Print Rights" are available for the Teacher Guide for only $2/student, so you can legally print worksheets and exams for your entire family or classroom (click here for more information).
Moreover, we offer bulk discounts for co-ops and other group classes. Digital Art History Textbooks are affordably priced at only $34.99 each for the FULL-CREDIT class. HOWEVER, Digital & Hardcover books are FURTHER DISCOUNTED by 20% for quantity purchases of 10+ copies! (Please message us for details on placing a group order.)
Example: A co-op teacher with a class of 15 students wants to purchase 16 digital art history textbooks, 1 digital teacher guide, and 14 print rights (the first is included with the teacher guide purchase itself). With volume pricing, this equals $447.87 for the 16 Textbooks + $19.99 for the Teacher Guide + $28 for the Print Rights totaling $495.86 for the FULL-CREDIT course for 15 students.
This comes to just over $33/student (with the teacher's resources included) — wow!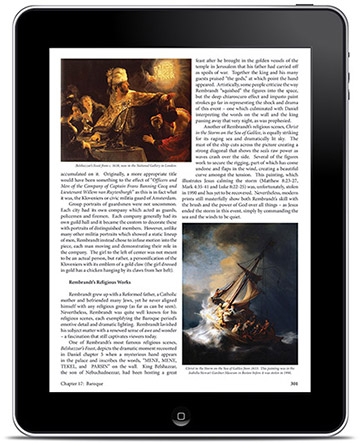 All around, The Master and His Apprentices is the premier homeschool art history curriculum of choice based on content, ease of use, and affordability.
Ready to begin discovering art history from a Christian perspective?
Hardcover Art History Textbook
Digital Art History Textbook
Softcover Art History Teacher Guide
Digital Art History Teacher Guide
Retail: $149.99
Add to Cart
Retail: $34.99
Add to Cart
Retail: $24.99
Add to Cart
Retail: $19.99
Add to Cart
STUDIO ART
STUDIO ART
Looking for a complete homeschool STUDIO ART curriculum? The wait is over!
This is NOT a paint-by-number kind of course…
10 Foundational Art Principles first provide students with the understanding and skills needed to create any great work of art. These include Drawing What You See, Value, Lighting, Texture, Composition, Perspective, Proportions & Grids, Transferring, Color, and Sculpture. Each is presented with well-illustrated, easy-to-follow instructions. Nevertheless, "college-level" concepts like linear perspective, compositional techniques, and color theory are thoroughly covered.
30 Projects then further introduce students to a wide variety of mediums, styles, and approaches. Each is placed in its historical context so students learn from the Masters while simultaneously developing their own unique pieces. Examples of a few projects include drawing a Celtic High Cross inspired by Celtic knot patterns going back to the Medieval period, carving a body part, like an eye or an ear, based on Michelangelo's Renaissance sculptures, painting a salvaged vase or plastic container with a sea-inspired theme after ancient Aegean pottery or arranging and photographing a re-created work of modern or contemporary art.
This course was designed for multiple skill levels. Whether a student has no art background or is already an accomplished artist, there is lots to learn and experiment with. The wide range of styles, mediums, and subject matter literally provides something to catch everyone's interest, whether that is landscape painting, architectural drawing, still life sculpting, nature photography, portrait sketching, or less-frequently covered areas like mosaics, printmaking, digital art, comic creations, Asian-inspired calligraphy, and (faux) stained glass.
Plus, this course has LOTS of FLEXIBILITY. Most projects can be customized based on a student's personal skills and interests. This includes choice of medium, style, subject matter, and/or creative approach. Instructions and pointers are provided for parents to encourage the creative process, critique work, and grade projects.
Students can earn .25 to 1.0 high school elective credit. While geared towards high schoolers, the course can also be used with younger students. We recommend 12+ for primarily self-guided study. However, younger students can complete the foundational principles and create their own projects when parents or older siblings are available to assist with the instructions and provide pointers.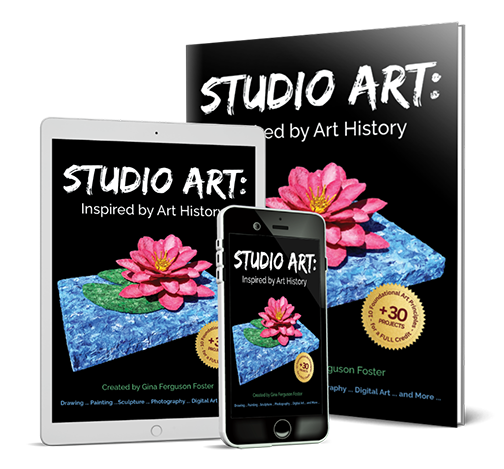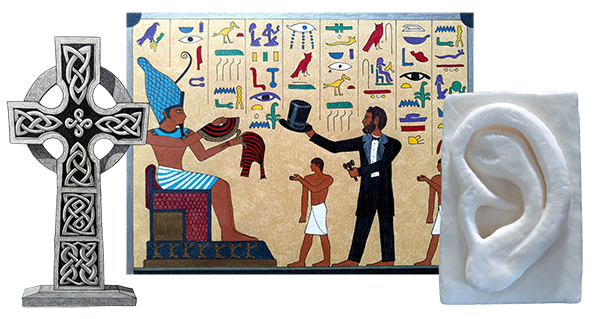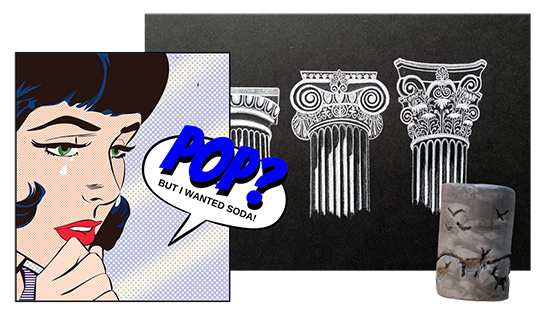 Flexibility Example…
Students first complete the 10 Foundational Principles; then, they can choose to complete any number of projects. The projects can be completed in any order. For instance, a homeschool mom or co-op can grant credit to students who each finish the Foundational Principles and then focus on the projects they are most interested in…
Sarah completes the "loose," "artsy" projects like the Leonardo-inspired Renaissance Portrait Sketches, the Lorrain-inspired Baroque Landscape Paintings, and the Asian-inspired Calligraphy.
David selects the "precise," "math-minded" projects like the Islamic Geometric Panels, the Celtic Knot-inspired High Crosses, and the Romanesque and Gothic Architectural Drawings.
Cora focuses on the "historical," "period-specific" projects like the Ancient Near Eastern Cylinder Seals, the Early Greek Pottery Fragments, and the Gothic-inspired Faux Stained Glass.
Nathaniel chooses the "literary," "story-telling" projects like the Ancient Egyptian Wall Scenes, the Limbourg Brothers Manuscript Pages, and the Pop Art-inspired Comic Panels.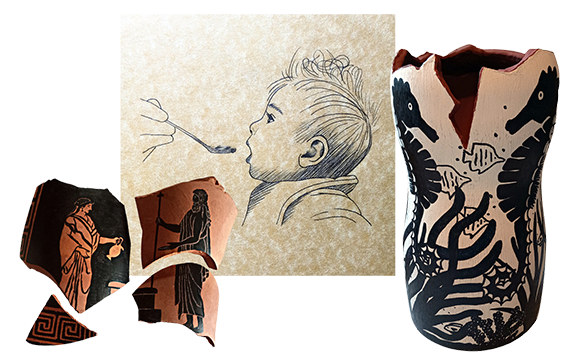 Of course, students can complete all of the projects too! A "Time Log" is available for tracking hours worked, with 120+ hours equaling a full elective credit.
Even if a family sets out to earn 1/4 to 1/2 credit, they may find they keep returning for more fun projects and end up completing the whole course. 🙂 
This book is literally packed full of flexible, easy-to-follow projects that encourage students to relax and have fun as they research new styles and boldly experiment to refine their artistic skills and enhance their creative approaches.
And, YES, it is very affordable…
The digital course is only $29.99 for the FULL Credit – for your whole family! Plus, the author worked hard to design projects that can be completed on a budget! Over half of the projects can be completed with just a "Drawing Kit," assembled from items you probably already own! The rest have inexpensive or even free options, like using a bar of soap, a cell phone (for photography), a potato, some cheap air-dry clay, or even Canva's free online drag-and-drop visual editor or other free "Paint"-type digital art program. This literally makes it the most flexible, full-credit, budget-friendly, multi-level high-school art studio course available!
Moreover, we offer bulk discounts for co-ops and other group classes. Digital Studio Art Books are affordably priced at only $29.99 each for the FULL-CREDIT class. HOWEVER, Digital & Softcover books are FURTHER DISCOUNTED by 20% for quantity purchases of 10+ copies! (Please message us for details on placing a group order.)
Combining Studio Art & Art History…
As stated on the home page, Studio Art: Inspired by Art History is not intended to replace The Master and His Apprentices: Art History from a Christian Perspective, but rather enhances it. Working through both courses provides a deeper appreciation for art history, and the hands-on studio projects further cement information AND develop creativity and technical skills. As such, we sincerely hope all families will extensively utilize both curricula. Studio Art contains instructions for using the two curricula together, and page numbers indicate where the textbook supplements the studio art projects.
In a co-op setting… Everyone can work on the exact same studio art project simultaneously. However, you don't have to follow this approach. When each student has their own copy of Studio Art: Inspired by Art History, they can read and reference the Foundational Principles, as needed, and pick and choose projects based on personal interests and skill levels. Plus, the easy-to-follow instructions enable students to quickly and efficiently self-guide their creative learning. This leaves time for teachers to provide encouraging feedback, moderate critiques (optional; instructions provided), and grade completed projects (grading pointers included).
Studio Art: Inspired by Art History is an excellent way to help cultivate deep-rooted creativity in the next generation!
Ready to begin creating some great works of art?
Physical books ship FREE via Media Mail to all 50 US States (an $8 surcharge applies for Priority Mail). International buyers may purchase physical books through Christianbook.com or RainbowResource.com, as we cannot process international shipping at this time. Nevertheless, digital products are available for everyone worldwide!
Please help us spread the word about The Master and His Apprentices…