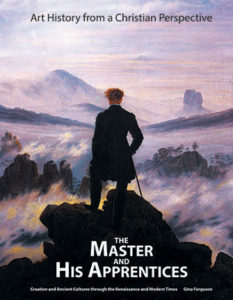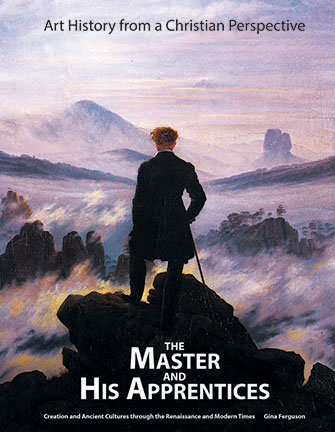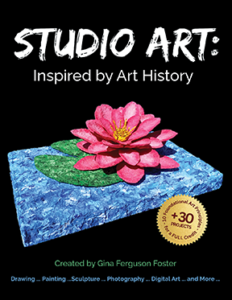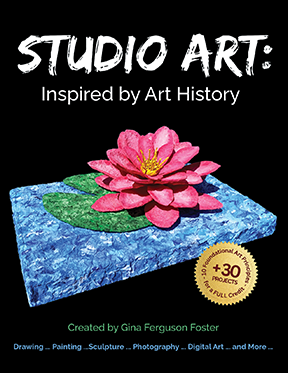 (Please scroll further down the page for the Studio Art course.)
ART HISTORY
Are you looking to teach an ART HISTORY class but don't know where to begin? We can help!
The Master and His Apprentices can help you easily and effectively teach a high school-level art history class.
A few primary features:
Worth 1 full elective credit
Written from a Biblical perspective
Use stand-alone or combine with other classes
NO nudity or other objectionable material
Helps students create a memorable "visual" timeline of Biblical and world events
Developed with limited private school budgets in mind (digital options available)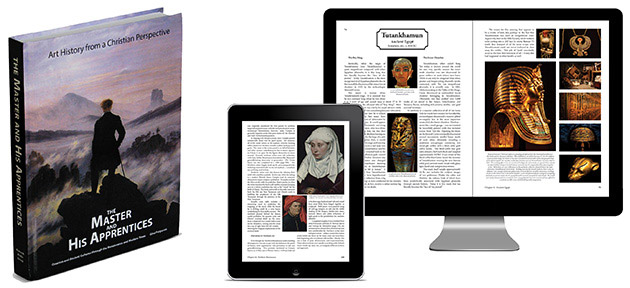 Offering an art history class is a great way for private Christian schools to set themselves apart. Colleges love to see an art history class included on a high school transcript!
This art history class covers all of the major artists and periods found in a college-level textbook but in a family-friendly manner that makes the information both accessible and memorable. For instance, major art history periods following Creation include:
Ancient Cultures: Ancient Near East, Egyptian, and Aegean
Classical Antiquity: Early Greek, Etruscan, and Roman
Middle Ages: Medieval & Islamic, Early Christian & Byzantine, Romanesque, and Gothic
Renaissance: Proto-Renaissance, Early/High Italian Renaissance, and Northern Renaissance
Baroque and Beyond: Baroque, Rococo to Today (modern art summary) and Global Highlights (non-Western art summary)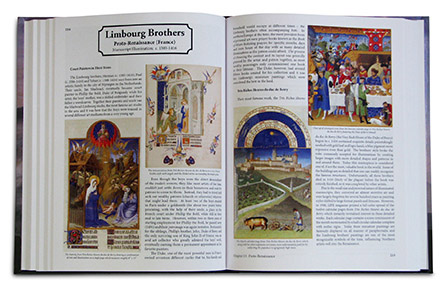 The companion Teacher Guide provides everything needed to teach an art history class, including:
Weekly Discussion Questions (also included as worksheets)
(4) Exams
Instructions for (4) Papers
Grading Chart
Answer Key for Exams and Worksheets
A syllabus and More!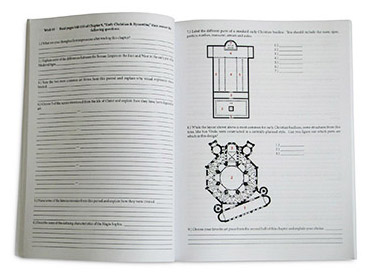 Teachers — Maybe you really enjoy art (and you obviously already know how to teach!). But finding the time to compile appropriate art history resources can be challenging. Now, with The Master and His Apprentices, you only have to monitor class discussions and grade papers/exams. Everything else, including class discussion questions and answers, comes in an easy-to-follow week-by-week format.
So go ahead and check teaching an art history class off of your "someday list."
Your students will thank you.
Furthermore, your class budget will thank you…
Digital Art History Textbooks are affordably priced at only $34.99 each for the FULL-CREDIT class. HOWEVER, Digital & Hardcover textbooks are FURTHER DISCOUNTED by 20% for quantity purchases of 10+ copies! (Please message us for details on placing a group order.)
Discount Example: A teacher with a class of 15 students wants to purchase 16 Digital Textbooks, 1 Digital Teacher Guide, and 14 Print Rights (the first is included with the Teacher Guide purchase itself).
With volume pricing calculated in, this comes to: $447.87 for the 16 Textbooks + $19.99 for the Teacher Guide + $28 for the Print Rights, which EQUALS $495.86 for the FULL-CREDIT course for 15 students. This is just over $30/student (with the teacher's resources included) — wow!
And you have OPTIONS…
Textbooks: A low-priced digital version is available that students can view on classroom tablets or personal computers. The hardcover edition is perfect for students who prefer to hold a book when reading or for classrooms going "tech-free." Whether physical or digital, textbooks are for individual use only, but families generally love having these for future reference!
Teacher Guides: The "teacher guide" is a turn-key system for teachers AND a student workbook in one. It contains all of the weekly worksheets/discussion questions, exams, etc. The digital version is only $19.99 and is great for teachers who love working from a tablet or laptop and want to print the worksheets and exams. The softcover teacher guide (with perforated pages) is only $24.99 and is great for teachers who prefer a physical book and want to photocopy the removable worksheets and exams.
Print Rights: Technically, it is illegal to copy or share consumable workbooks (like the Teacher Guide). However, to lower your costs, we offer "Print Rights" for the Teacher Guide for only $2/student. This way, you can legally print worksheets and exams for your entire classroom (click here for more information). This allows you to save $$$, obey the law, and help support our family-friendly project!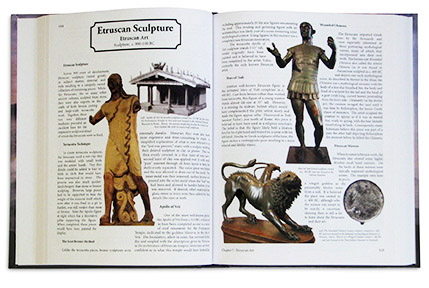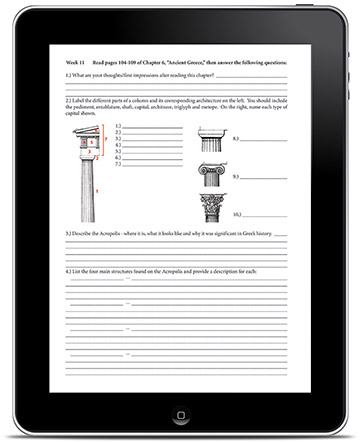 With over 600 images, The Master and His Apprentices: Art History from a Christian Perspective is an excellent way to include art history in your classroom!
Furthermore, Christian schools have found that The Master and His Apprentices integrates into current art, history, and/or Bible classes in innumerable ways. Classroom time can take as little as 1 hour per week for group discussions and exams when students complete their required readings at home.
Have questions? Please don't hesitate to contact us. We pray this resource is a wonderful blessing for your students!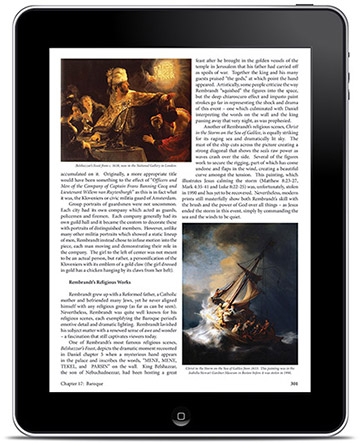 Make art history a part of your class offerings this year…
Art History Textbook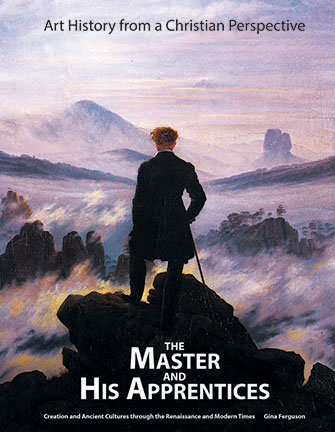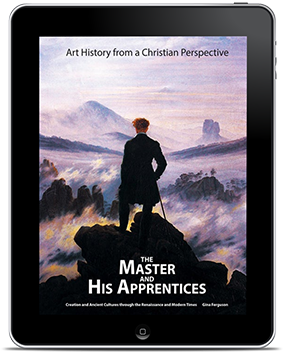 Art History Teacher Guide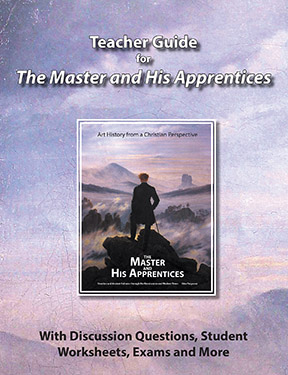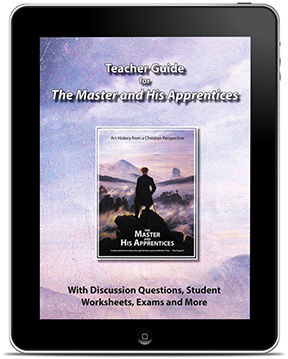 STUDIO ART
Looking to teach a STUDIO ART class but don't know where to begin? We can help!
Studio Art: Inspired by Art History is the perfect way to add more flexibility and variety to your art classes, whether you have an art background or not!
A few primary features:
Worth from .25 to 1.0 full elective credit
Foundation-Based
Multi-Level
Flexible
Affordable
10 Foundational Art Principles first provide students with the understanding and skills needed to create any great work of art. These include Drawing What You See, Value, Lighting, Texture, Composition, Perspective, Proportions & Grids, Transferring, Color, and Sculpture. Each is well-illustrated with easy-to-follow instructions. Nevertheless, "college-level" concepts like linear perspective, compositional techniques, and color theory are thoroughly covered.
30 Projects then further introduce students to a wide variety of mediums, styles, and approaches. Each is placed in its historical context so students learn from the Masters while simultaneously developing their own unique pieces. Examples of a few projects include drawing a Celtic High Cross inspired by Celtic knot patterns going back to the Medieval period, carving a body part, like an eye or an ear, based on Michelangelo's Renaissance sculptures, painting a salvaged vase or plastic container with a sea-inspired theme after ancient Aegean pottery or arranging and photographing a re-created work of modern or contemporary art.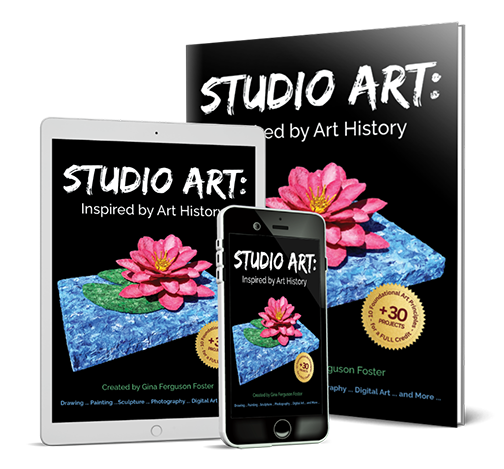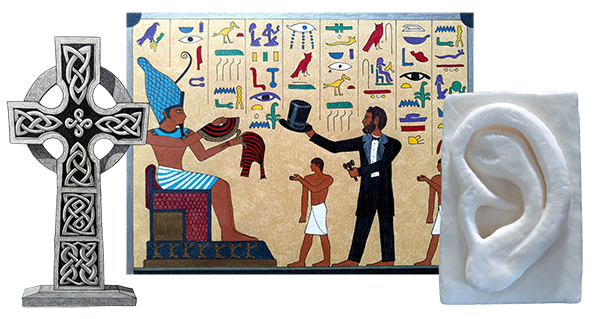 This course is for multiple skill levels…
Whether a student has no art background OR is already an accomplished artist, there is lots to learn and experiment with. The wide range of styles, mediums, and subject matter literally provides something to catch everyone's interest. This may include landscape painting, architectural drawing, still life sculpting, nature photography, portrait sketching, or less-frequently covered areas like mosaics, printmaking, digital art, comic creations, Asian-inspired calligraphy, and (faux) stained glass.
This course can earn .25 to 1.0 high school elective credit. The flexible, multi-level approach is great for multi-grade and multi-level classes (Art 101, Art 102, etc.). While geared towards high schoolers, the course can also be used with younger students. We recommend 12+ (middle school to high school) for primarily self-guided study. However, teachers can also modify projects for younger students for school-wide projects.
Update YOUR Classroom Approach…
Your entire class can work through the exact same art project. But you no longer have to follow this outdated approach!
When each student has their own copy of Studio Art: Inspired by Art History, they can read and reference the Foundational Principles, as needed, and pick and choose their Projects based on personal interests and skill levels. This way, students can work on many different projects simultaneously, which is no more work for the teacher!
In fact, it can be much easier AND cheaper as fewer art supplies are required when students don't all need the same ones at the same time! Plus, the "Time Log" helps students quickly record the time they spend working on exercises and projects. You simply grant credit based on their time worked, with 120+ hours equaling a full elective credit.
The easy-to-follow instructions enable students to self-guide their creative learning quickly and efficiently. This leaves time for teachers to provide encouraging feedback, moderate class critiques (optional; instructions provided), and grade completed projects (grading pointers included). Now THAT is a great classroom approach!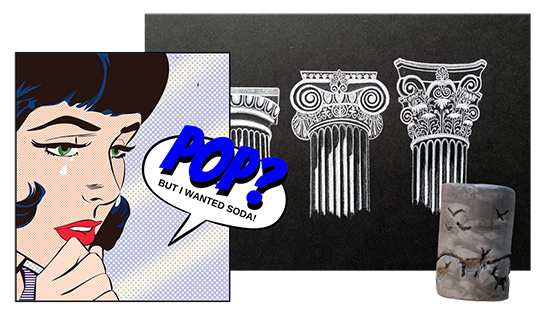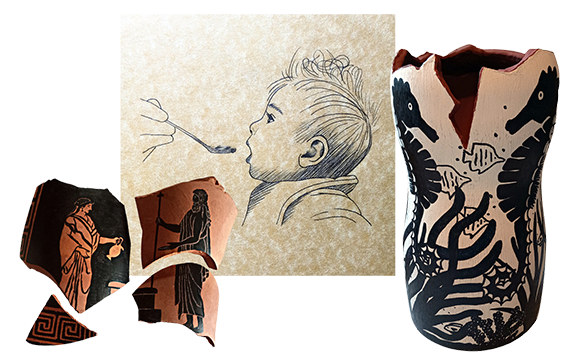 Example of Flexibility in the Classroom
"Mrs. Smith" first guides her 8 students through the 10 Foundational Principles. Then, she lets them choose their Projects. Students can customize their projects based on their skills and interests. This included choice of medium, style, subject matter, and/or creative approach.
Mrs. Smith's class selects the following…
Audrey focuses on the "portrait" and "figural" projects like the Etruscan-inspired Etched Mirrors, the ancient Roman "Painted Sculptures," and the Early Italian Renaissance Study in Folds.
Aaron focuses on the "digital" and "photographic" projects like the Creation-inspired Nature Photography Series, the Baroque-inspired Tenebristic Photography Project, and the Pop Art-inspired Digital Art Series.
Sarah focuses on the "loose," "artsy" projects like the Leonardo-inspired Renaissance Portrait Sketches, the Lorrain-inspired Baroque Landscape Paintings, and the Asian-inspired Calligraphy.
David focuses on "precise," "math-minded" projects like the Islamic Geometric Panels, the Celtic Knot-inspired High Crosses, and the Romanesque and Gothic Architectural Drawings.
Cora focuses on the "historical," "period-specific" projects like the Ancient Near Eastern Cylinder Seals, the Early Greek Pottery Fragments, and the Gothic-inspired Faux Stained Glass.
Nathaniel focuses on the "literary," "story-telling" projects like the Ancient Egyptian Wall Scenes, the Limbourg Brothers Manuscript Pages, and the Pop Art-inspired Comic Panels.
Emily focuses on "3D," "sculptural" projects like the Aegean Sea-Inspired Vases, the Michelangelo-inspired Renaissance soap carvings, and the Monet-inspired Impressionistic Sculptures.
Matthew focuses on "animal-themed" projects like the Aegean Sea-Inspired Vases, the Byzantine Mosaics with a bird theme, and the Durer-inspired Northern Renaissance Prints with an exotic animal theme.
As you can see, there is LOTS of room for students to select projects based on their personal interests. For instance, "Matthew" chose the Byzantine Mosais with a bird theme. However, "Audrey" could have also chosen the Byzantine Mosaics to go with her portraiture focus. This is because the subject matter for most projects is left up to each student for optimal artistic freedom.
And, it is AFFORDABLE…
Over half of the projects can be completed with just a "Drawing Kit," assembled from items students probably already own! The rest have inexpensive or even free options. For instance, a bar of soap, a cell phone (for photography), a potato, or some cheap air-dry clay.
Moreover, we offer bulk discounts for private schools and other group classes. Digital Studio Art Books are only $29.99 each for the FULL-CREDIT class. HOWEVER, Digital and softcover books receive 20% off for quantity purchases of 10+ copies! (Please message us for details on placing a group order.)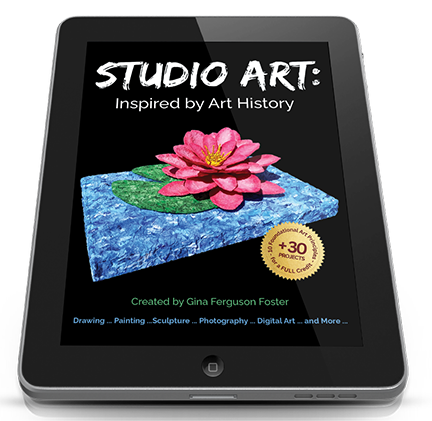 Combining STUDIO ART with ART HISTORY…
Even though Studio Art: Inspired by Art History contains some art history, it is NOT meant to replace our flagship curriculum The Master and His Apprentices: Art History from a Christian Perspective. Rather, they enhance and supplement each other! As such, we sincerely hope teachers will extensively utilize both curricula.
Page numbers are included in Studio Art for where The Master and His Apprentices textbook enhances the art project material (additional images, etc.). There is a lot of flexibility in how these two curricula can be used together (details included in Studio Art). Some schools may rotate art history and studio art every other year. Others will combine the two classes together into one. Any approach will work; however, art projects should be started after reading the corresponding chapter in the art history textbook. Nevertheless, even when offering the two classes simultaneously, this "delayed project approach" works naturally because the 10 Foundational Principles in Studio Art should be completed before the Projects, which provides time to get ahead in the textbook.
Overall, we hope Studio Art: Inspired by Art History helps cultivate deep-rooted creativity in your students – easily, enjoyably, and affordably!
Ready to begin creating some great works of art?
Includes 10 Foundational Principles and 30 Art Projects!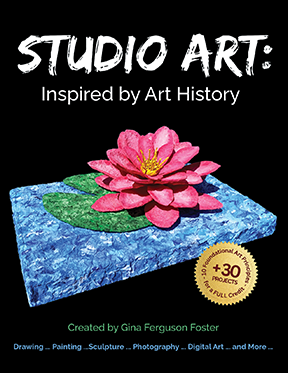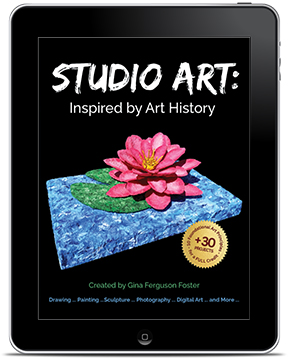 Physical books ship FREE via Media Mail to all 50 US States (an $8 surcharge applies for Priority Mail). International buyers may purchase physical books through Christianbook.com or RainbowResource.com, as we cannot process international shipping at this time. Nevertheless, digital products are available for everyone worldwide!
Please help us spread the word about The Master and His Apprentices…