Looking to teach an art history class but don't know where to begin? We can help!
The Master and His Apprentices

is

designed for you to easily and effectively teach a high school level art history class.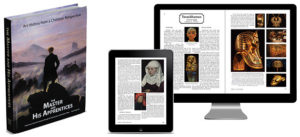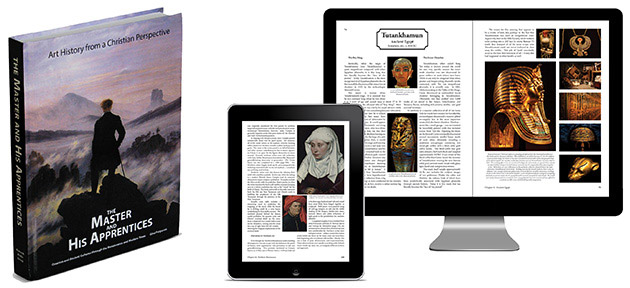 A few primary features:

Worth

1 full elective credit

Written from a biblical perspective
Use stand-alone or combine with other classes
NO nudity or other objectionable material
Helps students create a memorable "visual" timeline of biblical and world events
Developed with limited private school budgets in mind (digital options available)
Offering an art history class is a great way for private Christian schools to set themselves apart as many colleges love to see an art history class included on a high school transcript!
This art history class covers all of the major artists and periods found in a college-level textbook, but in a family-friendly manner that makes the information both accessible and memorable. For instance, major art history periods include:
Ancient Cultures: Ancient Near East, Egyptian and Aegean
Classical Antiquity: Early Greek, Etruscan and Roman
Middle Ages: Medieval & Islamic, Early Christian & Byzantine, Romanesque and Gothic
Renaissance: Proto-Renaissance, Early/High Italian Renaissance and Northern Renaissance
Baroque and Beyond: Baroque, Rococo to Today (modern art summary) and Global Highlights (non-Western art summary)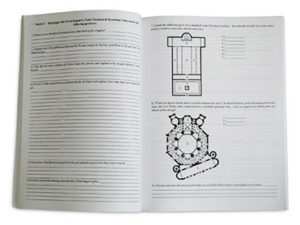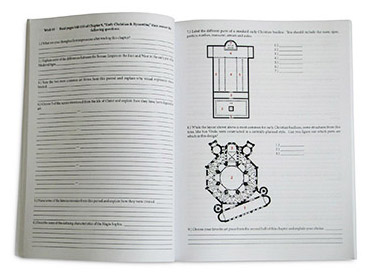 The companion Teacher Guide provides everything needed to teach an art history class, including:
Weekly Discussion Questions (also included as worksheets)
(4) Exams
Instructions for (4) Papers
Grading Chart
Answer Key for Exams and Worksheets
A syllabus and More!
Teachers — Maybe you really enjoy art (and you obviously already know how to teach!) but finding the time to compile appropriate art history resources can be challenging. Now, with The Master and His Apprentices, all you have to do is monitor class discussions and grade papers/exams as everything else, including class discussion questions and answers, comes in an easy-to-follow week-by-week format.
So go ahead — cross teaching an art history class off of your "someday list."
Your students will thank you.
Furthermore, your class budget will thank you…
The Master and His Apprentices is designed with small private schools in mind, and you have options…
Textbooks: A low-priced digital version is available that students can view on classroom Chromebooks, tablets, and/or personal computers. The digital version is even laid out in an 8.5″ x 11″ binder-ready print layout for students who prefer "holding pages in their hands to read." Textbooks are for individual student use only, and families generally find they love having these after the course for future reference – particularly the hardcover editions!
Digital Textbooks are only $34.99 each for the FULL-CREDIT class; HOWEVER, Digital & Hardcover Textbooks are FURTHER DISCOUNTED for quantity purchases of 10+ copies! (Please contact us for details)
Teacher Guides: The "teacher guide" is really a turn-key system for teachers AND a student workbook in one, as it contains all of the weekly worksheets/discussion questions, exams, etc. The digital version is only $19.99 and is great for teachers who love working from a tablet or laptop and want to print the worksheets and exams. The softcover teacher guide (with perforated pages) is only $24.99 and is great for teachers who prefer a physical book and want to photocopy the removable worksheets and exams.
Print Rights: Technically, it is illegal to copy or share consumable workbooks (the teacher guide), so, in order to keep the cost as low as possible, we are selling print rights for the worksheets and exams for only $2 per additional student taking the course! This allows you to save $$$, obey the law, and help support our family-friendly project!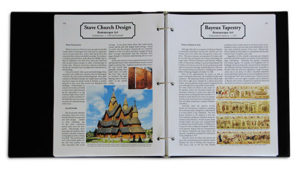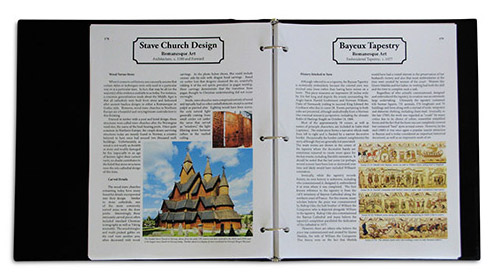 Example: A teacher with a class of 15 students wants to purchase 16 digital textbooks, 1 digital teacher guide, and 14 print rights (the first is included with the teacher guide purchase itself).
With volume pricing calculated in, this would come to:
$447.87 for the 16 Textbooks + $19.99 for the Teacher Guide + $28 for the Print Rights = $495.86 for the FULL-CREDIT course for 15 students — which is just over $30/student (with the teacher's resources included) — wow!
Ultimately, with over 600 full-color images, The Master and His Apprentices: Art History from a Christian Perspective is an excellent way to include art history in your classroom.
Furthermore, Christian schools have found that The Master and His Apprentices integrates smoothly with both in-person and VIRTUAL classes. The fun, visual-based discussions have been a welcome relief to students impacted by COVID-19, and art teachers have especially appreciated the content when studio options are limited. The Master and His Apprentices integrates into current art, history and/or Bible classes in innumerable ways, and classroom time can take as little as 1 hour/week for group discussions and exams when the required readings are completed at home.
Have questions? Please don't hesitate to contact us. We pray this resource is a wonderful blessing for your students!
Make art history a part of your class offerings this year…
Please contact us for bulk pricing. Physical books ship FREE via Media Mail to all 50 US States (a small surcharge applies for Priority). International buyers may purchase physical books through Christianbook.com, as we cannot process international shipping at this time. Nevertheless, digital products are available for everyone worldwide!
Please help us spread the word about The Master and His Apprentices…