Want to teach various art history periods but don't know where to begin?
We can help!
The Master and His Apprentices: Art History from a Christian Perspective and Studio Art: Inspired by Art History were each designed to help you easily and effectively teach a high school-level art history or studio art course. Each curriculum…
Is worth 1 full elective credit
Combinable with the other or can be used alone
Free of nudity and other objectionable material
Creates a memorable "visual" timeline
Was developed with limited homeschool and private school budgets in mind (digital options and bulk discounts available)
Both courses cover art history from Creation through to the Present. The first 17 chapters of The Master and His Apprentices cover artwork through the Baroque period in-depth. Then, chapters 18 and 19 briefly review post-Baroque and non-Western works. Studio Art follows the same order and has at least 1 (if not 2 or 3) projects for each period.
Below is a summary of the art history periods covered in each course:
Creation introduces students to THE Master artist and creates a biblical framework from which to view art.



Ancient Near East covers Mesopotamian works from the Babylonians, Assyrians, Persians, etc. Examples of individual works include Ziggurats, The Law Code of Hammurabi, and the Ishtar Gate.

Egyptian features everything from mummification and canopic jars to pyramid and pylon temple construction. Some of the pharaohs covered include Queen Hatshepsut and Ramses II.

Aegean includes works by the Cycladic, Minoan, and Mycenaean civilizations ranging from Cycladic figures to the Mask of Agamemnon.

Early Greek is divided into major categories like pottery, sculpture, and architecture, highlighting everything from the Winged Nike to different column capitals.

Etruscan focuses on Etruscan sculpture ranging from the Wounded Chimera to the Sarcophagi of the Spouses.



Roman includes famous historical landmarks like the Colosseum, Pantheon, and Trajan's Column.

Early Christian & Byzantine features a variety of early Christian works like catacomb paintings and Byzantine works like the Ravenna Mosaics.

Medieval & Islamic showcases a variety of pieces ranging from rune stones and crosses to the Great Mosque of Cordoba.

Romanesque covers reliquary statues, pilgrimages, and church architecture ranging from the Pisa Complex to stave church designs.

Gothic highlights a number of cathedrals, beginning with Abbot Suger and St. Denis, including Notre-Dame de Paris and Chartres Cathedral.



Proto-Renaissance features several defining artists such as Giotto, Lorenzetti, and the Limbourg brothers.

Early Italian Renaissance focuses on almost a dozen different artists, including Brunelleschi, Donatello, Botticelli, and Bellini.

High Italian Renaissance features some of the most famous names in art history, such as Leonardo, Raphael, and Titian.




Northern Renaissance covers a number of highly skilled Northern painters such as van Eyck, Durer, and Holbein.

Baroque features a host of defining artists from across Europe, such as Caravaggio, Valesquez, Rembrandt, and Vermeer, among others.



Rococo to Today provides a brief review of works produced from the 1700s on, including styles like impressionism, cubism, and modernism.

Global Highlights gives a brief review of non-Western works from around the world, ranging from antiquity to today.

The Appendix includes a wealth of additional information, such as extra in-depth essays, a "travel guide" outlining the location of all pieces/places covered in the book, as well as a complete wall-length timeline and much more!
Ready to dive into a variety of art history periods?
Art History Textbook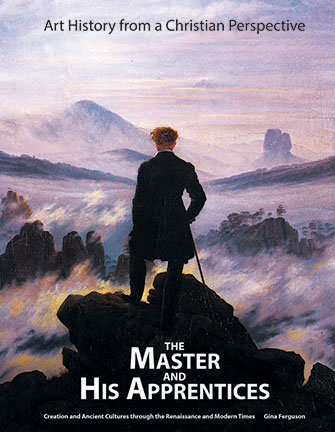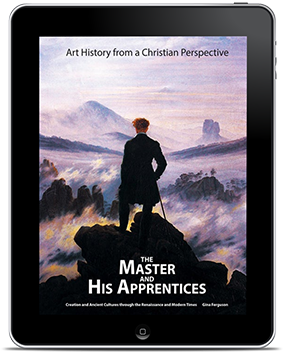 Art History Teacher Guide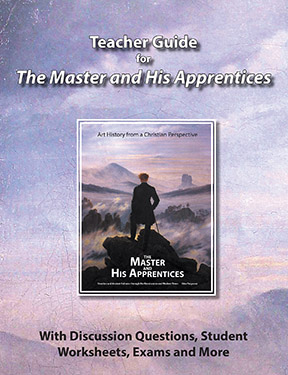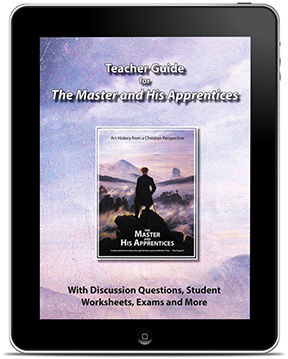 Studio Art Curriculum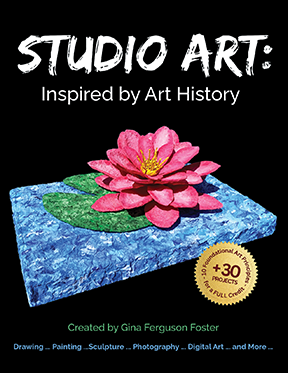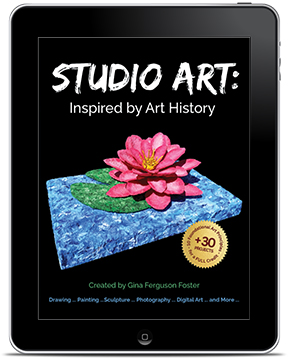 Physical books ship FREE via Media Mail to all 50 US States (a small surcharge applies for Priority). International buyers may purchase physical books through Christianbook.com, as we cannot process international shipping at this time. Nevertheless, digital products are available for everyone worldwide!
Please help us spread the word about The Master and His Apprentices…