Enter the Back to Homeschool Raffle!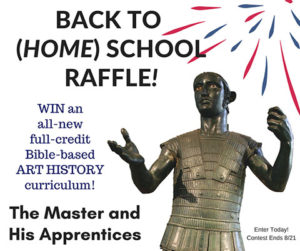 The Master and His Apprentices is entering its debut school year with the approach of the 2018/19 fall semester. To kick off the back-to-school season, we are raffling off a FREE copy of The Master and His Apprentices art history curriculum in our Back to Homeschool Raffle!
The Master and His Apprentices is a full-credit art history curriculum for high school students.  The textbook doubles as a great read for adults and also provides helpful supplementary material for younger students. Furthermore, the curriculum is written from a Christian perspective. This makes it ideal for private Christian schools as well as homeschooled families. You can read our reviews or check out some of our samples for more information.
TO WIN a complete digital textbook and teacher guide set, simply enter using the form below. The contest runs from 8/7-8/21. You can earn additional entries by sharing contest details or visiting us on social media!
Already purchased? No problem! If you are the winner, all you have to do is send us a copy of your receipt, and we will reimburse your full digital purchase or credit the difference on a hardcover purchase. (This includes purchases made through ChristianBook.com, RainbowResource.com, Amazon.com, etc.)
We will randomly select a winner from all eligible entries on 8/22/18 and contact the winner then. You can check back here to see who won. We pray this upcoming school year is a wonderful time of growth and development for your family!
Winner Update:  Congratulations to Holly V. and family for winning The Master and His Apprentices textbook and teacher guide in our "Back to Homeschool" raffle!