So much to be THANKFUL for Sale…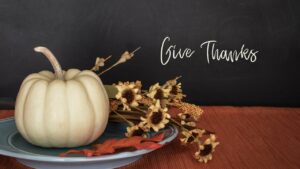 It's that Thanksgiving time of year again!
If you are like us, you are probably thinking about all the things you have to be thankful for.
The Master and His Apprentices: Art History from a Christian Perspective is all about giving thanks where proper thanks is due.
That is why the first chapter of this art history curriculum begins with Genesis and the story of Creation. It highlights God as THE Master artist and draws attention to the incredible and indescribable diversity and beauty that He created.
It also covers some of the many ways that we can praise and thank Him for it.
In light of this, we are offering a 20% Off "Give Thanks" Sale. This discount applies to ALL of our student art books, including the:
Hardcover Art History Textbook
Digital Art History Textbook
Softcover Studio Art Book
Digital Studio Art Book
This year's sale runs from Monday, November 20th, through Wednesday, November 29th, 2023. In addition, all physical orders SHIP FREE via media mail (an $8 fee applies for Priority Shipping). 
Please consider this our gift to help you continue giving thanks this week and throughout the year!
While The Master and His Apprentices: Art History from a Christian Perspective is often read for pleasure by adults, it can also earn a full credit for high school students. Moreover, it can be used to supplement art, history, and Bible studies for younger students. Truly, this is a resource that is excellent for the entire family.
For additional information, homeschoolers may find this page helpful, and private Christian school teachers may find this page helpful.
Many blessings to you as you celebrate this Thanksgiving season!