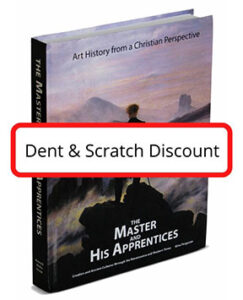 Looking for a discount on a hardcover textbook of The Master and His Apprentices: Art History from a Christian Perspective?
Occasionally, we receive damaged or misprinted books – generally dented corners and/or spines; covers with scratches; or color printing issues on the cover (the inside of these textbooks is not affected.) Due to these minor cosmetic issues, we are making these textbooks available for $30 OFF the regular retail price.
You can visit the product page for these Dent & Scratch Sale books by clicking here. Books are available while they last. Attempting to add one to the cart when they are currently unavailable will give you a message stating that the book cannot be ordered at this time. However, we update the page regularly and you are encouraged to check back often.
As always, we pray that The Master and His Apprentices curriculum is a blessing to your family and/or school, regardless of what format you purchase!