Top Picks Homeschool Curriculum Fair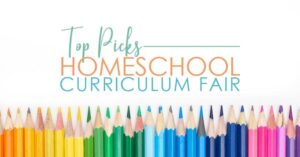 The Master and His Apprentices: Art History from a Christian Perspective is one of the vendors at the Top Picks Homeschool Curriculum Fair, an online-only event showcasing over 50 of the nation's best homeschool curriculum providers, such as Apologia, IEW, etc. (You can check out the Facebook group here.)
The primary purpose of the event is to help make up for the loss of state and national homeschool conventions this year due to Covid-19 and give customers the opportunity to interact with vendors, ask questions, win prizes, and participate in workshops.
Please stop by The Master and His Apprentices "booth" in the coming weeks and check out the great offers we have available!
The Master and His Apprentices Top Picks Homeschool Curriculum Fair Timeline:
The Master and His Apprentices "Booth" opens with special discount prices! (7/6)
Facebook Live Event at 3:00 pm EST answering questions about the curriculum (7/31)
Random drawing for a free Textbook & Teacher Guide Digital Bundle
And more to come…!