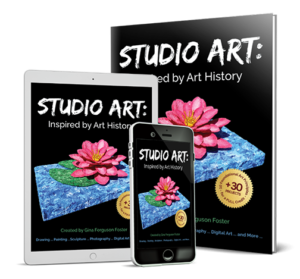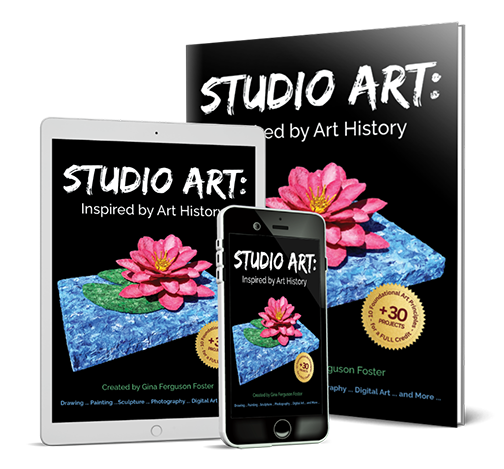 Our STUDIO ART course is finally here!
Since publishing The Master and His Apprentices: Art History from a Christian Perspective, many schools and homeschool families have asked for a companion studio art book that merges art history with studio art projects.
After seeing the need for an affordable, flexible, multi-level, foundation-based studio art program, Gina designed Studio Art: Inspired by Art History, a new full-credit art course that covers drawing, painting, sculpture, photography, digital art, and more.
In addition to instructions for parents and teachers, a "Time Log" helps students record their hours spent working on exercises and projects. Together these can be awarded anywhere from .25 credit (for 30 hours) to 1.0 credit (for 120+ hours) for high school students. However, younger students and adults can also benefit from the material (i.e., great for the whole family!)
The course begins with 10 FOUNDATIONAL PRINCIPLES (value, lighting, color, perspective, etc.) that first provide students with the understanding and skills needed to create any great work of art. Then, 30 PROJECTS further introduce students to various mediums, styles, and approaches, each supported with additional examples from art history.
As of today, you can find more information and purchase Studio Art: Inspired by Art History through The Master and His Apprentices. In the coming weeks, you will be able to buy the course through additional retailers as well. As always, we pray this resource is a wonderful blessing to your school or family!