Let's Play an Art History Game Called "Can you Identify That Art?"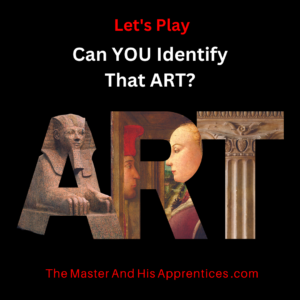 Can You Guess All 10 Pieces Correctly?
Do you like art history games? If you enjoy visiting art museums, have an interest in art history, or have read The Master and Apprentices: Art History from a Christian Perspective, then YOU may be able to guess all 10 pieces correctly!
In The Old Schoolhouse Spring Magazine, we have an ad on page 117 that includes the words "ART HISTORY." Each letter features a different work of art. Can you identify the period for each piece? Can you provide a title and artist, if applicable, in our art history game?
Only 2 of these specific 10 images are shown in the textbook. However, once you have learned the style for a particular period or artist, it makes identifying similar works much easier!
The included images are from The Met's collection in New York City. The Met is the largest and most visited art museum in the United States (where most of our readers live). So, this also provides a good overview of pieces you can view if your family has a chance to visit!
Let's Play "Can YOU Identify That Art?"

To play this art history game, fill in the spaces below with relevant details for each corresponding letter image. These may include but are not limited to the period, style, material, theme, artist, title, usage, and technique.
A
R
T
H
I
S
T
O
R
Y
Answer Key
So, how did it go? Could you identify as many as you had hoped and provide relevant details? Each piece's period, artist, and/or title are listed below. Furthermore, page numbers for The Master and His Apprentices textbook AND a link to the Met's page for each piece are included. Consequently, you can read more and see if you were able to provide any additional correct details.
ART
HISTORY
The Master and His Apprentices Textbook
If you haven't read it already, The Master and His Apprentices: Art History from a Christian Perspective textbook covers all of the major Western Art History periods from Creation and Ancient Times through the Renaissance and Baroque periods (including a summary of Non-Western and Modern/Contemporary art). Used with the companion Teacher Guide, the curriculum provides a FULL high school elective credit. You can read more here.
Thank you for playing our art history game. We hope you enjoyed "Can You Identify that Art?"!