Interview with Gina Ferguson Foster in The Old Schoolhouse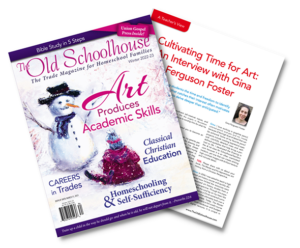 Have you started reading your Winter 2022-23 edition of The Old Schoolhouse quarterly magazine? If so, you may have noticed Cultivating Time for Art: An Interview with Gina Ferguson Foster on pages 76-77.
A variety of common homeschool art questions are addressed in this interview with Gina Ferguson Foster like:
"In your opinion, why is studying art important for homeschoolers?"
"Do you have any tips for parents of reluctant students who are not artistically inclined?"
"What words of encouragement would you like to share with students who are reluctant to create art?"
Plus, Gina also shares some fun insights into her own art background. These include what inspired her to become an artist, her favorite medium, and more info on her art history textbook, The Master and His Apprentices: Art History from a Christian Perspective.
You can find the entire interview in the FREE digital version here. Moreover, print editions can be found in major retail stores like Target, Walmart, Walgreens, Meijer, Kroger, Publix, Books-A-Million, and more!
If you haven't read The Old Schoolhouse magazine before, please check it out. There are always many encouraging and helpful homeschool articles on a wide variety of topics!
Likewise, you can find more information on Gina's homeschool art and art history curricula here.